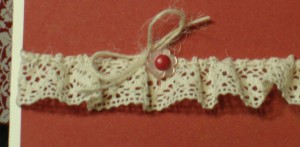 I wanted to create a little vintage look, like a lace curtain across the card.  So I threaded some twine through the holes at the top of Victoria crochet trim (pg. 194, 2012 IB&C Catalog).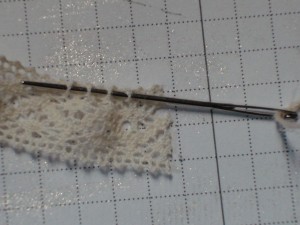 The ends of the twine and the lace were adhered with "snail" to the back of the card.  It was a bit droopy, but tape or adhesive would have made it too stiff, so I decided a strategically placed brad would be perfect. 
Here's a pic of the way I threaded the twine through the holes at the edge of the ribbon – easy-peasy!  I just gathered it a little and once it was adhered to the card, evened the gathers across.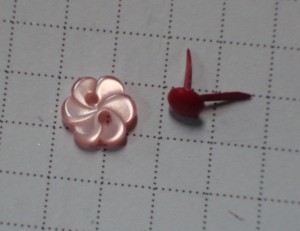 Searching for the perfect embellishment, I realized that we had these adorable buttons as part of the 2012 Occasions Mini catalog, to match the Twitterpated Designer Series Paper, but the pink one was just too pale by itself. 
Hmmm, I wonder if the brad "feet" would fit through the button holes? 
A little assistance from my handy pliers, and I had my "button" brad!  Perfect!
Until next time…Keep Calm and Find Yourself a Rubber Stamp!