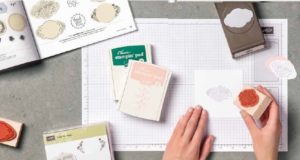 Sometimes I am on the GO and along the way have some down time.  What to do?  While thinking about this, I came up with a Basic Stamping Kit to have with me for just such an occasion.  Now I do have all of these things at home, because I have been stamping for over 10 years, but just in case you are a beginner, I have put together a list of Stampin' Up products that you would need to create this "Stamping on the Go" kit.  (see attachment)
Here is what my "basic" kit would include: 2 sheets each of very vanilla and whisper white cardstock cut in half and folded in half (8 card bases) plus another sheet of each color cut to 5″x 3-3/4″, matching envelopes (4 each color), Sponge Daubers, Black pen, Stamp Pads (Black, Chocolate Chip, Old Olive, Night of Navy, Real Red, Crushed Curry), matching cardstock, cut to 5-1/4″ x 4″ (4 sheets each), Snail adhesive and a refill, Stampin' Dimensionals, Paper Snips, Clear "E" block (I mostly use photopolymer stamps), Stampin' Mist and a Stampin' Scrub. These would probably all fit in a shoe-box size container.  I would also pull a couple of my favorite stamps for birthdays or florals.  That would keep me busy for several hours at least!  I do like to layer my cards, hence the colored card stock cut to size – so the card would be the base, a colored layer, and then another layer the same color as the base which I would stamp on.  I also stamp the back flap and front corner of the envelope with a coordinating image from the stamp set.
Now that you have seen MY "Basic Stamping Kit", what would YOU use to Stamp on the Go?