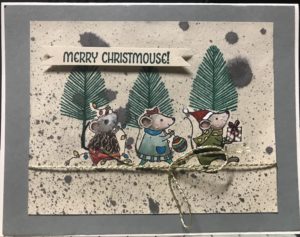 The mice in the Merry Mice stamp set are just adorable!  Perfect for one of my favorite techniques, masking! First I stamped the three little mice image and used markers and my blender pen to color them up.  Then I stamped the mice again on plain white paper and fussy cut each one out, dabbed a little snail on the back and pressed over the corresponding mouse in the card front.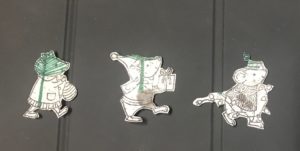 I stamped my Trees (from Totally Trees) on top and spritzed some going grey re-inker mixed with water over it all.  Not thrilled with the big spots, and I think if I do the card again I will test the sprayer out first until I get a more consistent SMALL dot coverage! After I peeled the masks off, Voila! The mice look like they are marching in front of a forest, or even carrying the trees along with them.   The sentiment also comes with the Merry Mice stamp set.
What would you do for a background for these little merry mice?