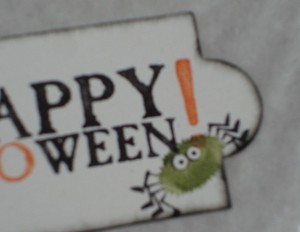 Spidey #2 – on the Label…
I inked the spider image from the "Spider Cider" stamp in the "Monster Munchies" set with Basic Black and Old Olive markers and stamped him on the corner of the "Happy Halloween" Label.  I also punched a 1/16″ circle on the inside of the "O" in Halloween (must have been AFTER I took this picture!).   I fed the top end of the fishing line with SPIDEY attached through that hole and adhered a dimensional over top. 
I punched a 1/16″ circle at each end of the label, and inserted old olive glimmer brads.
I added dimensionals at the four corners and attached to the top of the card. 
Now Spidey can climb up and down from his web to the jar of eyeballs!  CREEPY, Yes?
Here's another look at the final card: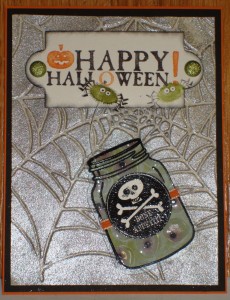 and, a video of Mr. Spidey doing his daily exercise!  <ed. sorry, couldn't figure out how to get it embedded!>
Until then…Keep Calm and Find Yourself a Rubber Stamp!
Posted: August 15th, 2012 under Cards, Crafty Techniques.
Comments: none