In honor of Valentine's Day, here is a fabulous Boho Hearts Inspiration Photo.  I want to make these, eat these and WEAR these.  So COLORFUL!  But wouldn't these make a great CARD, too?  Stamp or draw your favorite heart outl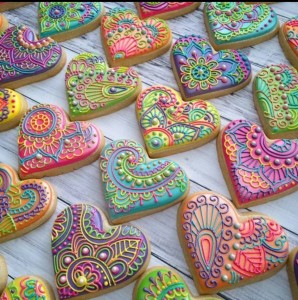 ine and fill in with doodles or even Zentangle.  Different color markers would make this so easy.
You could also take this idea and "marker" your stamp – below is a perfect image from the Bordering Blooms stamp set in the 2015-2016 Catalog for this technique.  Embellish the stamped image with dimensional dots or crystal effects to add texture and bling!  What will YOU do with this Boho Heart Inspiration?