I have been struggling with my card business – mostly due to the juggling of responsibilities: a full time job, President of the Art Gallery of Fell's Point, a lackluster jewelry business (both metalsmithing and lampwork beads), love of spinning (fiber), love of machine embroidery (yes, I have a fabulous embroidery machine!), family, an adorable minx of a tuxedo kitty, and the time (mostly lack thereof) in between! It seems like just when I get started on a path, something interrupts and it can be (yes) MONTHS before I get back to it. It does get crazy. So I apologize for the total inconsistency of the posts to my blog!
I have tried to keep my blog mostly card and project related, but I was shocked to see that I have not posted since August!!! (REALLY???).
Sooooo I will be posting more of my life and what inspires me – and hopefully more consistently – in 2016. I am inspired DAILY by what I see – in nature, in my travels, by Pinterest and Facebook (and a few other blogs that I visit regularly). Sometimes that might even result in a card!!!
So here goes…. (drum roll please)…..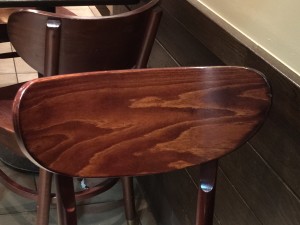 Okay, so perhaps you are a little underwhelmed…. but let me explain….
This is a chair at Starbucks.  This is what has inspired me – look at that wonderful grain, the light and dark areas.  Could this be clouds, a landscape, the ocean, a river?  I could use this in so many ways!  Layer metals for a brooch or pendant for jewelry could be one way.  If this pattern were on a piece of agate or jasper, I would make a cab out of it and set it in jewelry.  For a card,  I could challenge myself to make it monochromatic – all browns using just this color scheme.  Or do a card with clouds featured (stamps or dies).
So this is today's inspiration!  What do you think?  How does this inspire YOU?