I just Love Sandy Allnock!  I've taken a class with her (at The Queen's Ink), and she is fun and so great with her color lessons.  I have all the Copic Sketch Markers (!) and just can't get enough coloring with them.  Sandy's blog is on my everyday list and she has inspired me to go in directions that I would never have thought of (and to drool over several watercolor products that I hope someday to afford, because, like the Copics, I have to have ALL the colors!).  This week Sandy talked about the 30-Day Coloring Challenge on Kathy Racoosin's blog THE DAILY MARKER.  Who doesn't like to color? (I say…)  So I got started this am, not very far, I admit, but it's a START!
First I stamped and fussy cut THIS image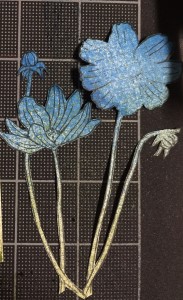 from the Helping Me Grow brand new stamp set in the new Occasions Catty.  Then I stamped it again on my favorite paper (Shimmery White), placed the cut-out on top and spritzed with a couple different Smooch Spritz's.  Clearly I was not worried about keeping the underneath image pristine, because I will be coloring and layering colors on top and often the serendipity of my "sloppiness" will actually enhanc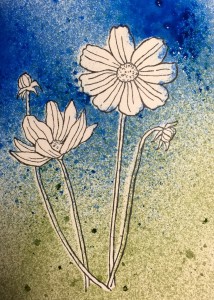 e the final image.  This coloring challenge is all about going out of your "safe" coloring zone and using OTHER coloring products in your stash.
So what will day 2 bring?  I have some ideas already! – Stay tuned!