I LOVE Facebook, but every once in a while some of the abbreviations really "throw" me, as this one did, for MONTHS, until finally I saw the actual full title!  Now the back story is that I have, literally, HUNDREDS of vintage Stampin' Up stamp sets.  When I started this wild ride (i.e. obsession -uh huh, I admit it!), I was consumed by all the stamps in the older catalogs that I DID NOT HAVE, and lo and behold, they were available on EBAY!  Since then I have SO MANY STAMP SETS I could not even go through them all if I stamped cards EVERY DAY!  (and I do try!).  So I have decided that these stamps will find NEW homes!  Some may go back to EBAY, but some I really like will be featured on THROW BACK THURSDAY!  Today I've created a card using two vintage stamp sets with current Stampin' Up products:  "Measure of a Life" (2006) and "Mixed Greetings" (2005).  Here's the card: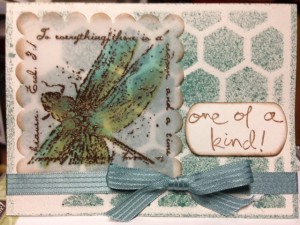 …and here are the two stamp sets:
Measure of a Life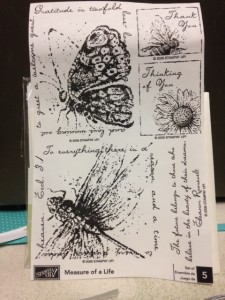 and
Mixed Greetings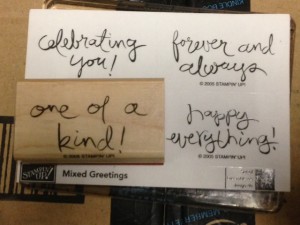 The way this will work is if you like these stamp sets, which have been officially retired by Stampin' Up, you can purchase them, for the price stated below,  AND receive the card for FREE! (US Orders only, please)
If you purchase the stamp sets AND place an order of $30 or more of Stampin' Up products from my website
(www.mystampalooza.stampinup.net), I'll ship these lovelies to you for FREE, along with the card AND a selection of vintage embellishments, because once you get these stamps, you will be INSPIRED to make a bunch of cards.  Heck, I'll even throw in the techniques I used to make this card (hint: there are more than one!).
The two stamp sets will be sold for $15 (total).  S/H will be $5.25 (Priority Mail Small Flat Rate Box)
Here are all the supplies used in this card:
126974 – Early Espresso Classic Stampin Pad $5.95
130136 – Coastal Cabana Designer Series Paper (40 sheets) $21.95
101856 – White Vellum (20 sheets) $6.50
102316 – Naturals White Card Stock (40 sheets) $7.50
133672 – Lost Lagoon Satin Stripe Ribbon (10 yards) $6.95
107297 – Crumb Cake Medium Envelopes (40 envelopes) $6.50
104332 – Snail Adhesive $6.50
103683 – Glue Dots $3.95
104430 – Stampin Dimensionals (300) $3.95
104294 – Sticky Strip $6.95
133672 – Lost Lagoon Satin Stripe Ribbon (10 yards) $6.95
126895 – Stampin Spritzer $2.95
133773 – Sponge Daubers (5) $4.95
102283 – Versaamark Inkpad $7.50
131000 – Coastal Cabana Stmpin' Blendabilities Markers (3 Markers) $11.95
130998 – Daffodil Delight Stampin' Blendabilities Markers (3 Markers) $11.95
128980 – Early Espresso Stampin' Emboss Powder $4.95
119882 – Scallop Edge Border Punch $15.95
119859 – Extra-Large Oval Punch $16.95 (oops, the punch used on the card is retired, but this one is current and would work also!)
132965 – Hexagon Hive Thinlit $24.95