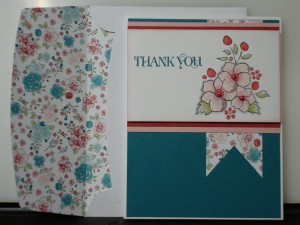 Recently, there was a blog tour on the Exclusive Stampin' Up Demonstrator site, SUDSOL.  One of the cards in particular using the Bordering On Romance set and Twitterpated Designer Series Paper, "called" to me!  Both the stamp set and paper are available in the 2012 Occasions Mini Catalog.  The original design (Thanks, Cristyne!) is here.
 There are lots of "crafty" details to this card that make it a "WOW"! 
The first is the coloring technique – you could use Stampin' Up's great markers, watercolor pencils, watercolor crayons, or even ink up a brush from the stamp pad or reinker.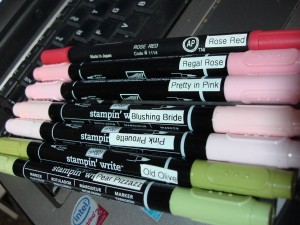 If you are using any of the water-based inks to fill in the flowers, then you will need to stamp the image with black Staz-on so the ink doesn't run. 
These are the SU markers that I used on the sample below.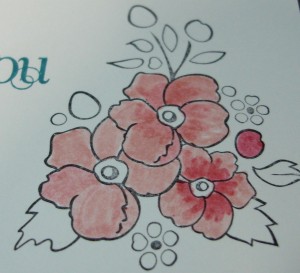 To illustrate the steps, I used Blushing Bride on all 3 flowers, then Pretty In Pink just on the part of the petals nearest the center for the top flower and right-hand flower, then finally, Regal Rose on the right-hand flower.  You can see the color difference of the layering effect – the little circle on the far right is Regal Rose by itself.
After the Regal Rose step, I went back with Pink Pirouette and tried to blend the layers a little better.  To get the darker ink off the brush tip of Pink Pirouette, I would just swipe it against my finger or scrap paper as I went along.  In retrospect, I could have used a damp Q-Tip to blend the colors a little more.  Here is the final product: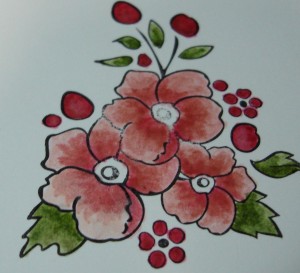 Tomorrow:  the rest of the story – pink pearls and envelope envy!
Until then…Keep Calm and Find Yourself a Rubber Stamp!